We would like to inform you about our materials and their various application possibilities. For this purpose, some time ago we carried out restorations. For example orthoses, with our SANDWICH® OT TWO.
With our SANDWICH® OT TWO, we have succeeded in cross-linking two materials that differ greatly in strength. In this way, closed-cell EVA materials can be used in a vacuum process to produce. For example, sockets, night bedding splints or even support corsets that offer the often desired softness on the inside and, at the same time, high dimensional stability with increased tear resistance on the outside. In addition, these two layers can be thermoformed in a single operation.
SANDWICH® OT TWO (Art.85902) – approx. 9 mm total thickness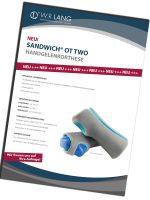 Inside – forming layer – approx. 25 Shore A – caribbean blue approx. 4 mm thickness
Outside – stabilizing layer – approx. 70 Shore A – stone-grey approx. 5 mm thickness
Alternative: SANDWICH® OT ONE (Art.85901) – approx. 7 mm total thickness

In order to be able to illustrate an exemplary fitting, we have carried it out on our tacit colleague Kai-Uwe (mannequin!).
Fracture brace with shoulder socket
Kai-Uwe suffers from a non-articular humeral fracture without significant dislocation or neurovascular complications.
As a result, an individual sleeve construction, with a socket for the entire upper arm, was made for him from the SANDWICH® OT TWO. This allows Kai-Uwe's elbow and shoulder joint to move freely. Thanks to adjustable Velcro fasteners, however, a fixed socket is also provided. The principle of orthoses is to provide conservative therapy with a circular socket for the upper arm and sleeve-shaped compression of the soft tissues.
Lumbo orthosis
Unfortunately, the doctor recently diagnosed Kai-Uwe with an intervertebral disc disorder, which meant that he had to undergo surgery. In order to relieve the pressure on Kai-Uwe's pelvis and trunk, his trusted orthopedic technician finally made him a brace consisting of a SANDWICH® OT TWO.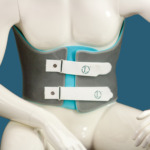 Such a brace mainly provides pelvic and trunk support and has a stronger circular compression effect as well as a general effect on the overall body statics. Supporting orthoses have an uprighting relief as well as movement-restricting and immobilizing function, especially for the lumbar and thoracolumbar region. Furthermore, the custom-made support orthosis relieves pressure on the intervertebral disc and flattens the lumbar lordosis and limits movement.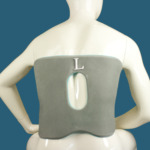 What are the indicators for a lumbo orthosis?
Indicators that you may need a lumbo orthosis include facet syndrome, lumbar syndrome or lumbar spinal stenosis and sciatica. Furthermore, the lumbo orthosis can be used to relieve pressure on the intervertebral discs after a herniated disc operation.
Wrist orthosis
Due to an inflammation in Kai-Uwe's wrist, it is largely immobilized. For this reason, we made him a wrist orthosis from our SANDWICH® OT TWO, which immobilizes and stabilizes the wrist.
All conservative, preoperative, and postoperative indications, as well as inflammatory conditions that require functional support or immobilization of the wrist, can be indicators that a wrist orthosis is needed.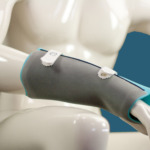 The hands are considered the most intensively used work instruments. It is no wonder that the stress limit is exceeded at times with this strain. The consequences of frequent overloading of the hands and wrist are irritations and acute as well as chronic soft tissue irritations in the wrist area. These sequelae can be treated or cared for with the help of orthoses.
Please also inform yourself about our other materials, such as EVA SPEZIAL SANDWICH® and EVA SPEZIAL SANDWICH TRIPLEX®.
Do you already know our sandwich material EVA SPEZIAL SANDWICH® RS? We present this new product in our Journal 01/2022. (German)