Nice, clearly arranged and user-friendly – the new Online Shop of W.R. Lang!
During the last weeks and months we have collected a lot of ideas and looked for optimization potentials. Our main focus clearly was on user-friendliness and the connection to our warehouse logistics so to guarantee the best possible shopping experience for our customers.
A modern look, many functions, an intuitive navigation and comfortable ordering. We have optimally designed our virtual shopping world. Clearly structured areas point the fast way through our portfolio. A search function and filters further support navigation. This makes you find (get to) the desired product faster.
From now on, you will be able to place your orders on our website under shop.w-r-lang.de . Terms of delivery, settlement and payment remain unchanged. Simply pay us a visit!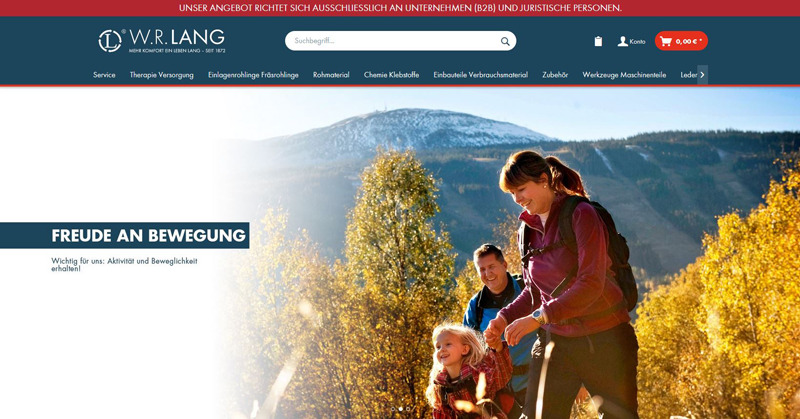 As standstill is well known to equal step back, there will be constant optimizations in the future. You may also look forward to a continually growing breadth and depth of our product range.
Nothing is perfect, so feedback and suggestion for improvement are always welcome. Please simply contact us using our contact form !
Of course here, too, our high standards of quality and our intensive customer support apply. We strive to process your order and prepare it for shipping as fast as possible and on the the same day.
As always, our our service team is available to you to provide supplementary information regarding individual products.
You are also welcome to check out our product pages in advance, such as our two- and three-layer vulcanized composite sheets.
Information for our customers:
Our online shop offerings is addressed solely to entrepreneurs and legal persons.
If your are already an existing customer:
Please fill in the form at our online shop, if your are interested.
we ask you to please download the registration form for new customers using this link (datasheet in german), if your are not already a customer. Please return the the filled-in form to us by fax or e-mail.
We are pleased at your interest. After a verification of your information we will contact you as soon as possible to provide you with your access data.

We hope the new shop appeals to you and wish you a nice shopping experience!
Of course you will always find the latest offers from our journal and the shoe supply flyer in the store!