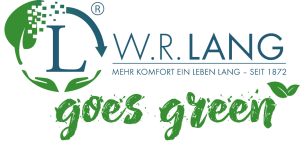 Flower Meadow Campaign in Spring – we have distributed little sowing bags with our spring and Easter greeting. In them there were the seeds for a flower meadow.
With our spring and Easter greetings, our customers received a packet with a seed mixture for a colorful flower meadow – a rich source of nectar for bees!
Without wild and honey bees there would be no fruit, no vegetables and no flowers. If you have a garden, you can do a lot to preserve the useful insects.That's why we launched our Flower Meadow Campaign!
Our customers have not only seeded heartily, but also successfully! Here are the first results:
Vigorous plants have grown – Beautiful blooms in Bad Dürrenberg!
Have you also had your first "gardening" successes with our Flower Meadow Campaign sowing bags that bees really enjoy? If so, please send us photos to publish here!
What the action with the seed bags was about, you can read here.
Please also read about our other W.R. Lang goes green! projects: