Other companies also have sustainable ideas… …and put them into practice:
Online shoe repair with Shoedoc
Wearing shoes for as long as possible is probably the most sustainable way to use them. Plus, there's no waste, nothing to recycle. You also save resources. But the reality is different.
Expired soles, a broken zipper or pressure points? That's why you may throw the shoe carelessly into the bin. A repair would therefore be the solution. But unfortunately, there are fewer and fewer shoemakers.
Matthias Vickermann and Martin Stoya, two shoemakers from Baden-Baden, have now developed a solution. The founders of the manufacture of the same name for custom-made shoes launched the online shoe repair shop Shoedoc. Launched in 2004, the Manufactur has since repaired more than 150,000 pairs of shoes.
As a result, the shoemakers have succeeded in creating a web offering that allows users to click quickly and easily to the desired shoe repair in simple steps.
Including step-by-step instructions, the selection of the required order is carried out and with self-explanatory illustrations. Then the prices can be viewed a few seconds after starting the repair selection. Once the shoes have been shipped, the repair is completed after an average of seven days.
"We want to make professional shoe repair, care and reworking possible for women and men all over Germany",
says managing director Matthias Vickermann.
The Shoedoc workshop's six-man team adjusts heel height or heel noises. They also change sole profiles, wide shoes and maintain them holistically.
"Shoemakers who offer their services on a stationary basis are limited to customers from the region. On the other hand, interested parties want the advantages of fast online processing. Also for shoe repairs."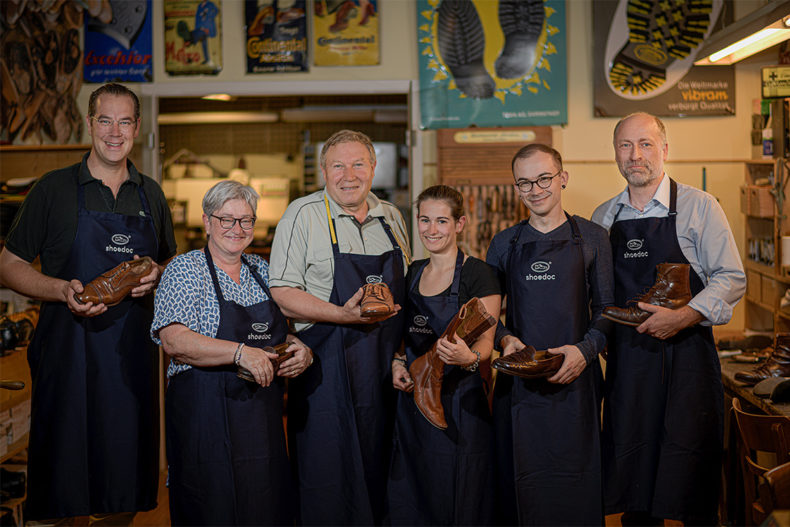 Click here for the online shoe repair shop of Shoedoc
Read here what projects we have already implemented in our company.
Read here who else is going greener: