We gave away party kegs as part of our 150th anniversary. For this, we chose Westerwald-Bräu from the Hachenburg brewery.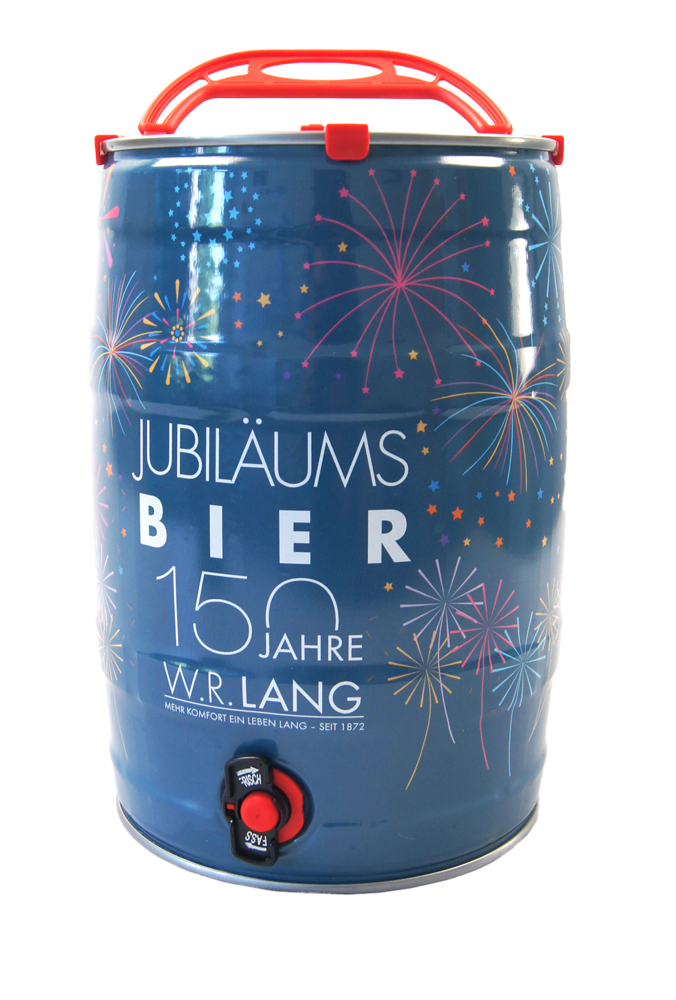 Because for us, sustainability also means giving preference, where possible, to regional companies as trading partners.
A study by the Institute for Management and Economic Research revealed a particularly striking result of the survey: In Germany, mainly small and medium-sized enterprises demonstrate responsibility for the environment.
Not only W.R. Lang, but also the Westerwald Brewery is one of the medium-sized companies.
The privately owned brewery from Hachenburg in the Westerwald is an owner-managed family brewery, which is headed by Jens Geimer in the 5th generation. Mainly the beers are sold in the Westerwald, as well as the neighboring regions. The brewery has 80 employees and 10 apprentices in 2022. Since 2021, the company is public welfare balanced and climate neutral through compensation. The brewing water is drawn from the brewery's own spring located in the Rothbachtal nature reserve.
The Hachenburg brewery has now received the European Future Award for sustainability. Our warmest congratulations on winning this award!
At the international beer competition, the European Beer Star, they not only impressed with their "Hachenburger Hell" brand, which was awarded a silver medal, but also won the Future Award. This important Future Award was presented for the first time this year for exemplary and sustainable business management.
All breweries registered with the European Beer Star 2022 were able to participate voluntarily in the Future Award in addition to the familiar tasting. In the process, aspects from the areas of ecology, economy, social affairs, and culture were queried by the breweries. A team of experts from Bochum University of Applied Sciences then selected the 10 best entries from the questionnaires submitted. The family-owned company was able to score points with its product quality and sustainability.
About the "European Beer Star" beer competition
The renowned beer competition of the Association of Private Breweries is considered one of the toughest in the world. The international jury of experts – consisting of 140 brewmasters, beer sommeliers and proven beer connoisseurs from all over Europe – tested the submitted beer specialties during the two-day blind tasting according to criteria such as appearance, foam, aroma, taste and varietal characteristics, and determined the prize winners from a total of 73 categories.
With 2.168 beers from 40 countries on all continents, the "European Beer Star" once again set high standards despite the crisis year.
Premiere: EBS award for sustainable business management
Following the digital award ceremonies in the past two years, the awards were once again presented on site in Munich. This year, for the first time, the "European Beer Star Future Award" was also presented for exemplary and sustainable corporate management and outstanding product quality.
Other companies are "green" as well. Read the following articles: