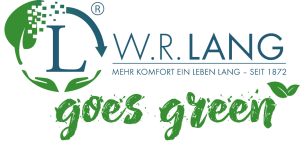 The health conscious workplace design is ergonomic
Whether office work or commissioning – every professional occupation has specific requirements for a humane workplace design. This is to assure safe working conditions and the protection of health. An ergonomic workplace ought to optimally support the professional occupation and minimize the work-related strain as much as possible. The organization of the work activities plays an important role in this, too. When workplace and work activities are designed according to safe and healthy criteria, this prevents accidents at work, occupational or work-related illnesses. Starting with working times via the office equipment to the working process itself: ergonomic plays a central role in the design of safe and healthy working conditions in many areas.
The inventory, too, can do something extra for the (back) health of the employees. Inventory and room environment are actually ergonomically alignable by certain measures. Thereby the workplace offers nearly perfect working conditions and the performance of the employees is supported.
The ergonomic orientation prevents forced postures that mainly arise due to long sitting or standing. Over time these lead to tensions in the back/neck musculature and pains in the arm and shoulder areas. A forced posture may lead to the musculature to cramp within a mere four seconds. A static, non-ergonomic sitting position does not provide the body with a possibility of tension release.
This is why, for example, there are height-adjustable desks and computer screens in our offices. That can be adjusted to body height and sitting position – for health conscious workplace design!
Green plants not only beautify the workplace
And last, but not least, there are houseplants wherever possible in many of our offices. Because these not only embellish the workplace, but also create a good climate in the rooms. The green of the plants pleases the eye and lifts the spirits. In addition many easy to care for in the office houseplants provide an air-purifying effect. Some of the so-called office plats also increase the air humidity.
This brings us another step closer to our goal of becoming a little greener every month.
Also read about our other projects related to "W.R. Lang goes green":
Sowing Bags – Our Flower Meadow Campaign in Spring
New Banderoles for Bedding Blanks
Flower Meadow Campaign in Spring
We are becoming greener – also with our print products!
Greener by coffee…every month a little
Document pouches – New and 100% recyclable
The change to electronic invoicing makes us greener
Becoming greener – by packaging recycling
Paper instead of plastic – paper bags and cartons for our insole blanks