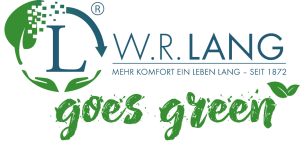 Sustainable corporate culture – In these times it is a great challenge to overcome the global crisis. The long-term consequences cannot even be estimated yet. Our acting concerning values like sustainability, environmental awareness and company culture are more and more becoming the focus of attention.
"I'm not feeling well at all today." Employees should not relate this statement to the work environment or respectively to their work itself in the first place, and be and stay efficient. For this, various areas of action are open to employers. For instance taking measures in the areas of team building or health management.
Each individual thus daily contributes to the successful existence of our company. And each individual is a part of W.R. Lang!
What do we attach importance to in our business, what defines the W.R. Lang company?  Find out here what we believe in.
Exactly this has been demonstrated by our collaborative project "W.R. Lang is colorful"  Read about this initiative we started last year (German).
Means to increase the well-being of the employees thus contribute to the sustainable corporate culture of our company. By means of a sustainable company culture we assume the responsibility for our employees and the environment.
Welfare for employees is part of the concept. In other words our social and societal responsibility turned inward, because the internal strengthening of health and well-being increases efficiency. That in turn has a positive effect on the work processes of the company. Measures within the framework of workplace health promotion are even supported by the federal government (German).
We periodically offer our employees courses within the framework of health care. In these internal courses, topics like nutrition counseling, back training, and healthy cooking are covered.
An example is our health workshop "powerful break fillers" that took place in February. In this course there was a theoretical part providing knowledge around healthy nutrition. This was followed by a practical part about the preparation of healthy and quickly prepared breakfast food.
Our employees are our more valuable asset. It therefore of course our obligation to preserve the health and vitality of our staff.
Is there anything better for this than a sufficient supply of fresh vitamins?
At beginning of March, we installed a weekly delivery service of fresh fruit and vegetables.
This delivery service is provided by the company FruchtFuchs based in Koblenz. The company chooses on regional and seasonal products for us. These products are delivered to us environmentally friendly and free of packing waste in an exchangeable fruit basket.
This brings us another step closer to our goal of becoming a little greener every month.
Also read about our other projects related to "W.R. Lang goes green":
Sowing Bags – Our Flower Meadow Campaign in Spring
New Banderoles for Bedding Blanks
Flower Meadow Campaign in Spring
We are becoming greener – also with our print products!
Greener by coffee…every month a little
Document pouches – New and 100% recyclable
The change to electronic invoicing makes us greener
Becoming greener – by packaging recycling
Paper instead of plastic – paper bags and cartons for our insole blanks